Standard Dachshunds at Goodwood House
"Bridey"
Bridey was my first standard smooth dachshund.
She taught me most everything
I know about dachshunds!
Thank you Bridey!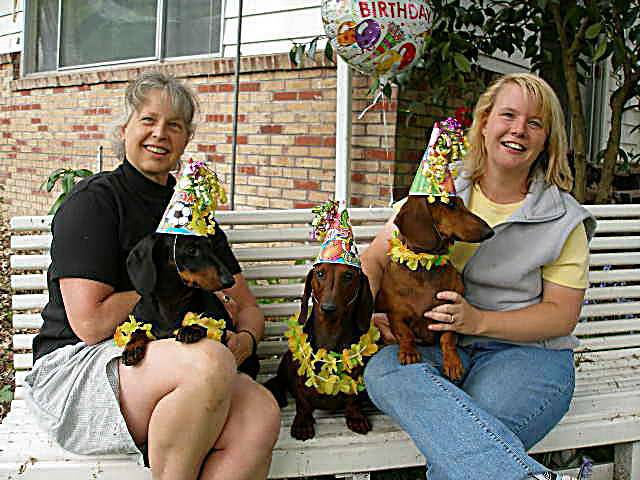 L to R: Yours Truly, Bridey, Reddy, Lily and Nicole. The 3 dogs celebrate their birthday on April 26.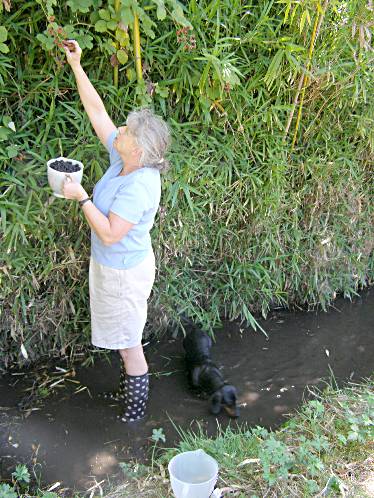 Yours truly picks blackberries and Bridey plays in the creek.....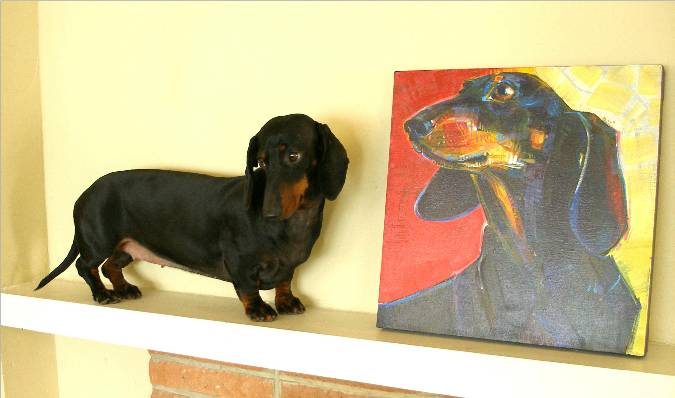 Bridey had her portrait painted by Gwenn Seemel.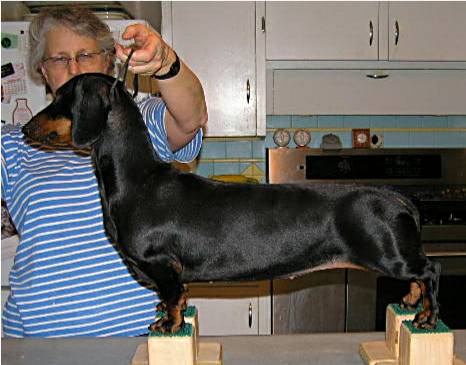 Bridey still remembers how to stack! (3 1/2 years old)
Bridey is exceptionally gamey. She loves to tunnel the rats and to chase the bunnies.
She even voices on fur and hoof. Go Bridey!!!
RATS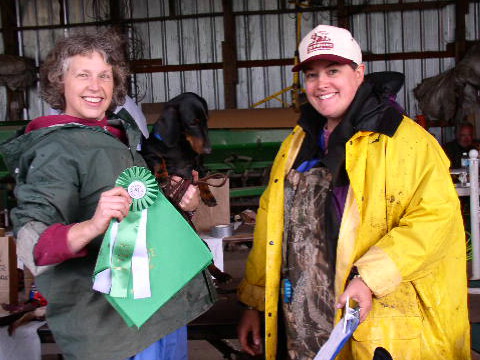 Getting her Junior Earthdog title, September 2004. Judge Marie Quarls.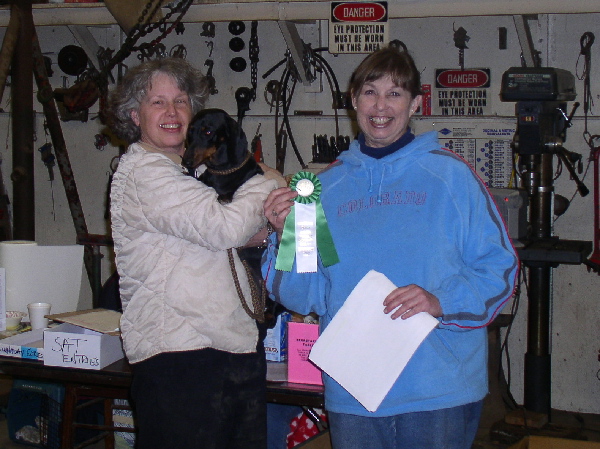 Bridey earns her 1st leg of her SE 3/11/06. Judge Maryl Douglas.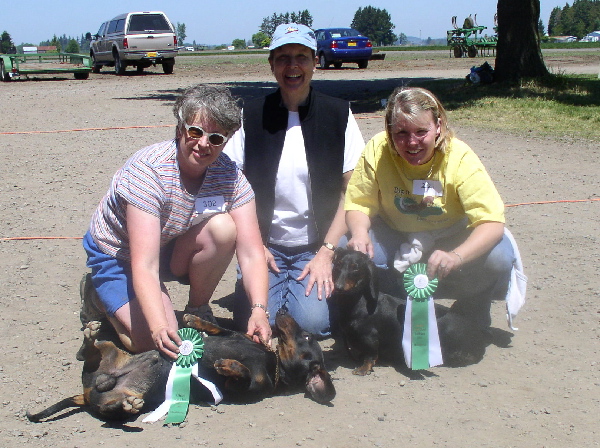 L to R: Claire and Kadenz, judge Martha Ferguson, Bridey and Nicole Cooper.
Belden's farm, May 2006, Bridey 2nd leg, Kadenz 1st leg, Senior
Kadenz is a goof ball!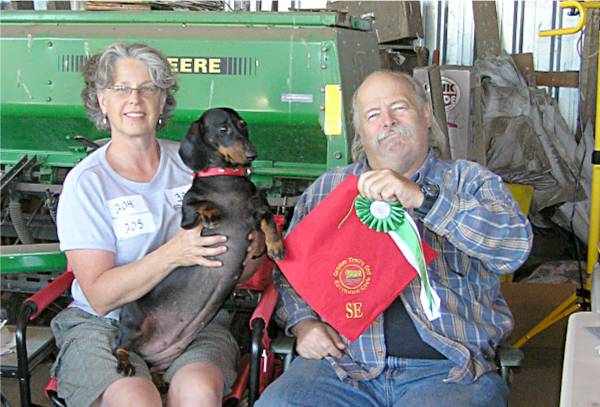 Bridey with her brand new title!!! Senior Earthdog
Judge Jim Tebbetts
Belden Farm, Turner, OR, 23 Sept, 2006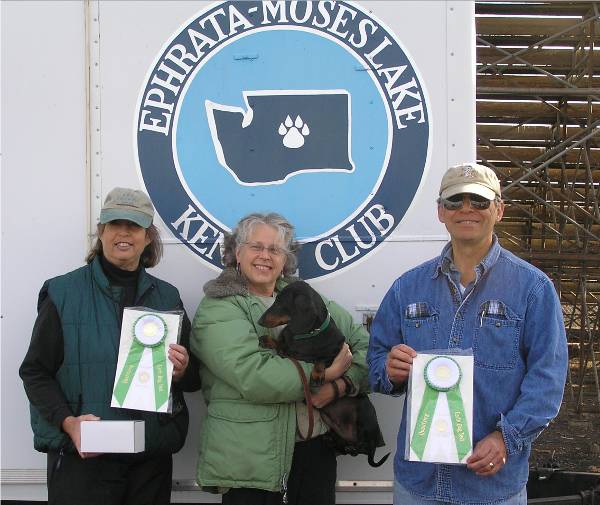 Bridey winning her 1st and 2nd legs of the master level of earthdog at the
Ephrata-Moses Lake earthdog event, 10-14,15, 2006
L to R, Judge Maryl Douglas, yours truly w/ Bridey, and judge Sil Sanders.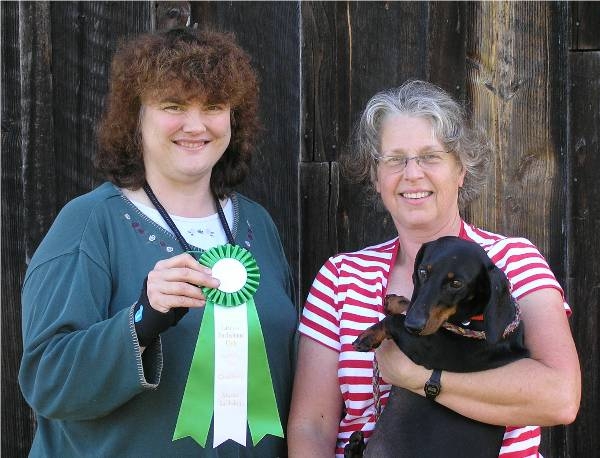 Bridey earns her 3rd leg of her master earthdog title. She will have to wait until February to finish up her ME.
Congratulations on a fantastic year Bridey!
Left to right: Judge Susan Fuller, Yours Truly and Bridey. Whidbey Island, October 21st, 2006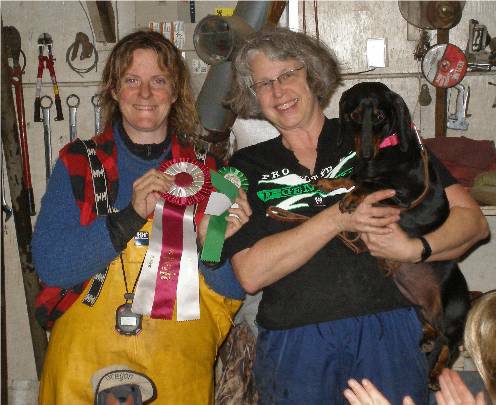 1st earthdog day of the season at Belden's farm in Turner, Feb 24, 2007.
Bridey puts the finishing leg on her ME.
Way to go Missy!!!
L to R: Judge Jean Dieden, yours truly and Bridey.
IRON-DOG!!!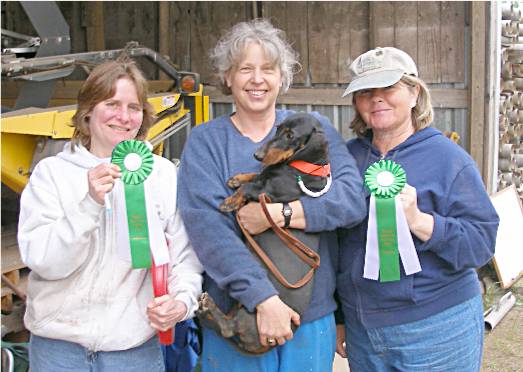 Bridey earns her Iron-Dog necklace!
Iron-Dog is a fun non-title that is given when an earthdog passes both master and senior on the same day.
L to R: judge Jill Peterson, Yours Truly, Bridey, and judge Sue Ellestad. May 12, 2007

The local Stayton newspaper wrote a lovely article on earthdog at the farm
and Bridey got her picture taken! See the article!
RIBBONS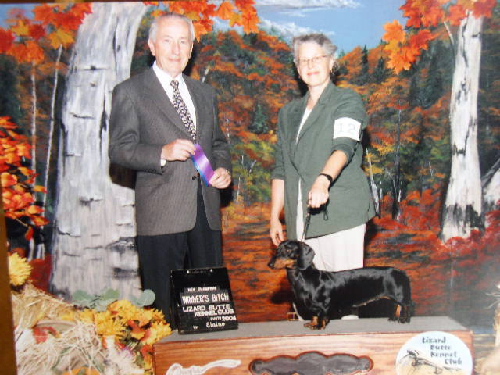 Bridey earning her championship in Boise, Idaho, October 2004.
RABBITS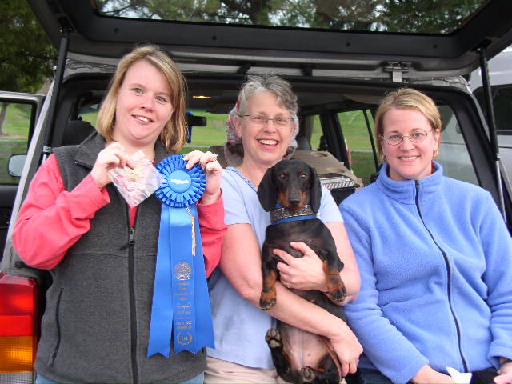 First "first" in Vacaville California field trial, Feb, 2005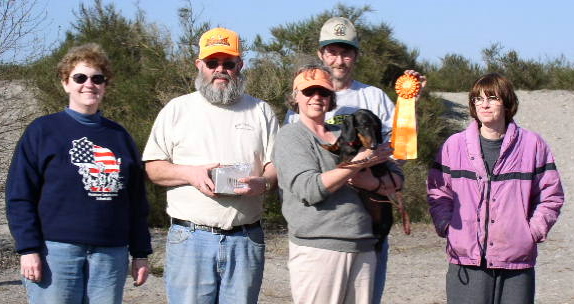 High dachshund in trial at the basset "Hunting Hound" test, Feb, 2005