Goodwood Standard Smoothes
2011 Competitors
standard smooth dachshund puppies for sale
Not a bad year!
Vacaville, CA, Dec 3 and 4
Saturday: Ivan 1st/7 NEW FIELD CHAMPION!
Franka 1st/12 NEW FIELD CHAMPION!
(Franka was unable to compete for Absolute as she was in standing season.)
Chino, CA, Thanksgiving weekend.
Friday: Hunt test: Ivan passes the first leg of his HH!
Saturday: Ivan 3rd/12 [points: 32.33]
Franka 1st/11 [points: 25.42]
Jadzia 3rd/11 [points: 33.67]
Sunday: Jadzia 1st/10 [points 43.67] NEW FIELD CHAMPION!
(Jadzia was unable to compete for Absolute as she was in standing season.)
DCA FT, Oct 1st
Jadzia 1st/8 [points 30]
Franka 4th/8 [points 14.42]
Ivan 2nd/7 [points 28.33]
DFSW Inaugural Field Trial, Sept 17th
Franka 1st/9, Absolute! [points: 12.67]
Jadzia 2nd/9 [points: 23]
Earthdog, CRCTC, July 30th
Saturday, Ivan passes the last 2 legs for his SE!
Sunday, Ivan tries Master, can't figure out the root and gets mad at it!
Zuchtshau, Mulheim, Germany
Gilly wins best smooth and a V rating!
NATC spring show in New Jersey
Franka passed her Schussfestigkeit.
She was rated "very promising" in her puppy conformation exam.
Cascade Dachshund Field Trials, June 4 and 5, 2011
Ivan 4th/10 Saturday, 2nd/9 Sunday (casting) [points: 24.83 has his 1st]
Jadzia 2nd/17 Saturday [points: 18.5]
Franka 3rd/11 Sunday (casting) [her first points: 3.67]
OTEEC Earthdog Tests, May 15 2011
Ivan 1st senior leg
Gilly 2 master legs
GPDC field trials, April 15, 16, and 17 2011
Ivan: 1/6 on Friday and Absolute!, 4/13 on Saturday
Gilly: 2/10 on Friday
Jadzia: 2/6 on Friday, 2/15 on Saturday
Cleo: 1/6 on Friday, 1/15 on Saturday, 2/11? (casting) on Sunday NEW FC!!!
Thora (Vela/Odin): 3/15 on Saturday (congrats!!!)
Crazy weekend!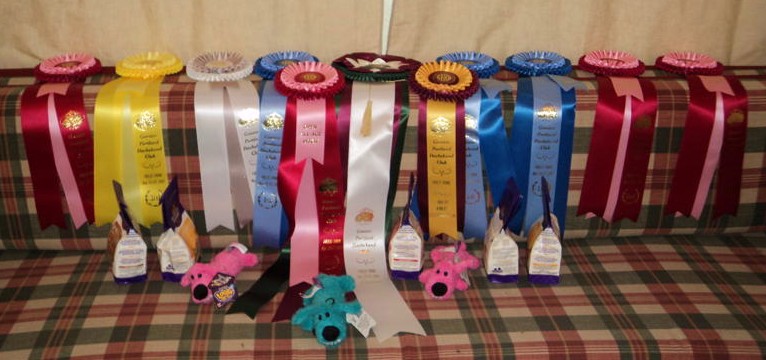 NCDC field trial, March 4 and 5, Vacaville, CA
Ivan: 5/8 on Sat. Didn't run on Sunday.
Cleo: 3/16 on Saturday, and 4/10 on Sunday.