Goodwood Standard Smooth Dachshunds
Training for Earthdog

My 2nd favorite thing to do with my dogs is to participate in earthdog tests. (My first favorite thing is to go for long walks off leash.)
We have a small set up here and often invite other like minded doggy friends to come practice. Here is a recent event.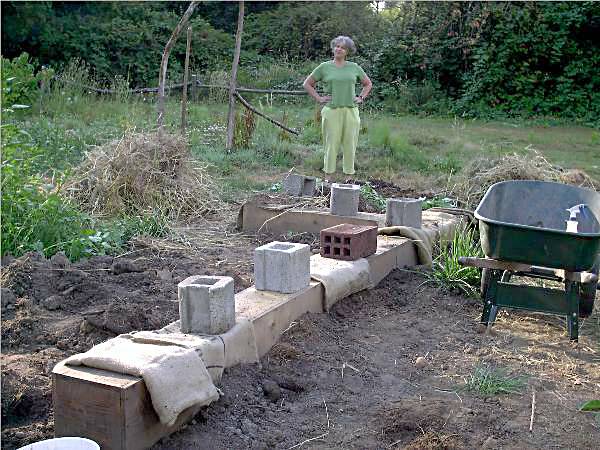 Here you can see the general system. The rat is in the box nearest the foreground. The entrance is by me. Lots more tunnels are being made as the more complex the tunnel, the better the workout. I put cement blocks on the tunnels as ol' Kadenz can really bump around in there! The burlap is to keep dirt and the hay and the light from coming into the tunnels. They are supposed to be dark.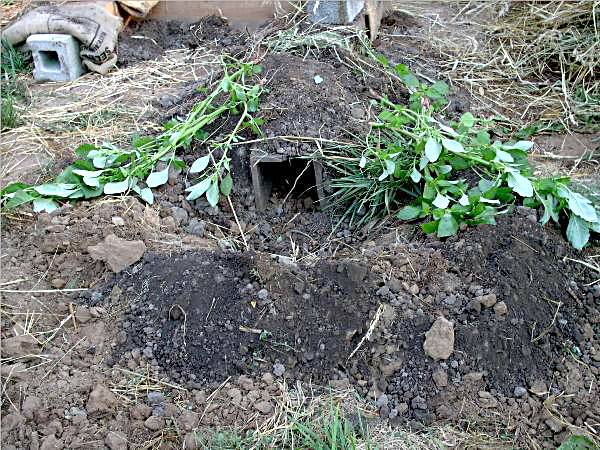 Here is the tunnel entrance. We buried this one piece underground so it would mimic the test tunnels better. There is a big ridge of dirt in front of the tunnel so the dogs can't see the opening from ground level at their release points. The tunnels are about 9 x 9 inches.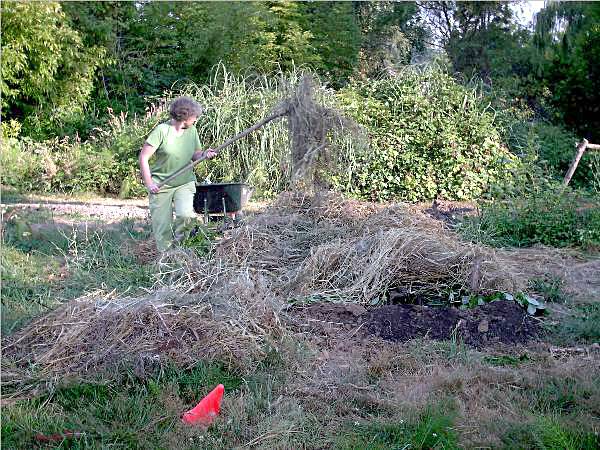 Here I am putting lots of dried grasses on top of the tunnel system and at the entrance. I am trying to camouflage the entire tunnel.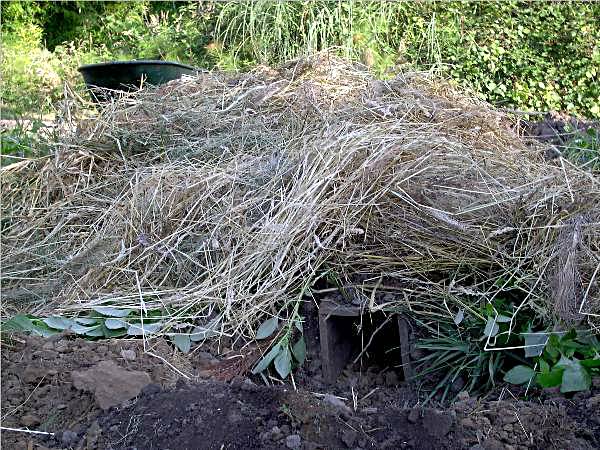 Here is what the tunnel entrance looks like all done.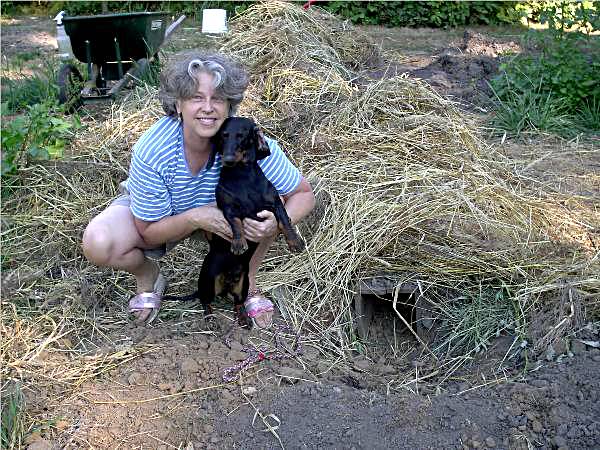 Here is Mr. Spade getting his first lesson in tunnel work. He did fine!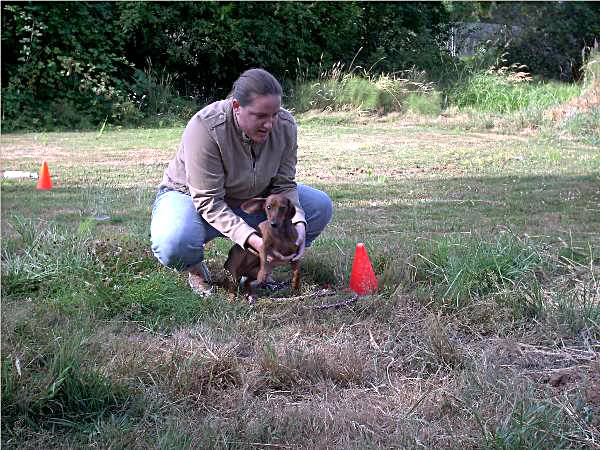 Here is Miss Jessica and her Charm. They are a hot team! Charm is going for her Jr. Earthdog title, so starts at 10 feet away from the entrance. She has 30 seconds to get to the rat, must start working in 30 seconds and must work non stop for 60 seconds. Easier said than done!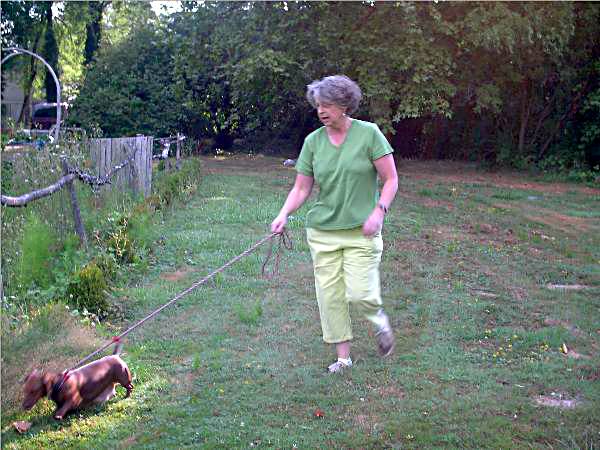 Dogs are brought to their starting point on a 4 to 6 foot lead. The dogs run without collars in the tunnels so they don't catch on anything. You don't want to dig up tunnels to get a dog out! Miss Pixie is excited to get ratting!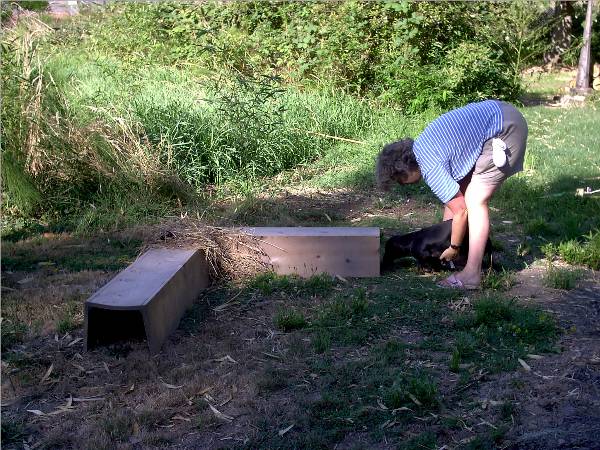 When a dog is introduced to the tunnels, we start short and well lit. It is scary to go down a dark big tunnel! Here is Spade learning the ropes.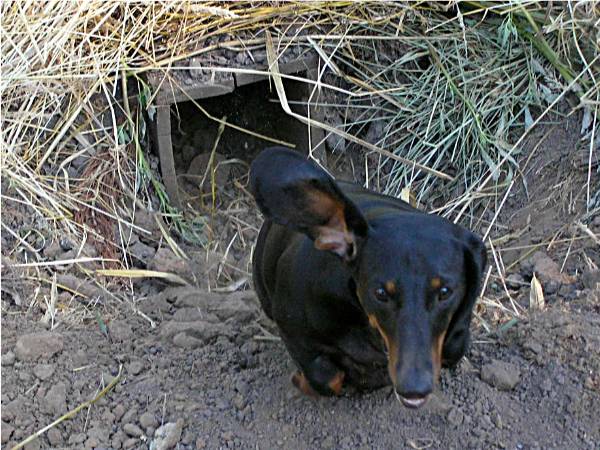 Here is my madwoman, Bridey, ripping out of the tunnel. At her level she needs to come out of the tunnel when I call. We remove the rat, or there would be no way!!!
This is a great way to spend time outside with your dogs. I can't recommend it enough!
Want your own earthdog tunnels?