Goodwood House
European Dachshunds
Abs FC Franka Von Schlendrian JE
Read more about Franka's title journey on
my competition page.
Franka at the NATC meet in June, 2011
Mme de France was our dual judge (hunting and conformation)
Mme de France is the president of the French Teckel Club.
Franka received a "very promising" rating. Yay!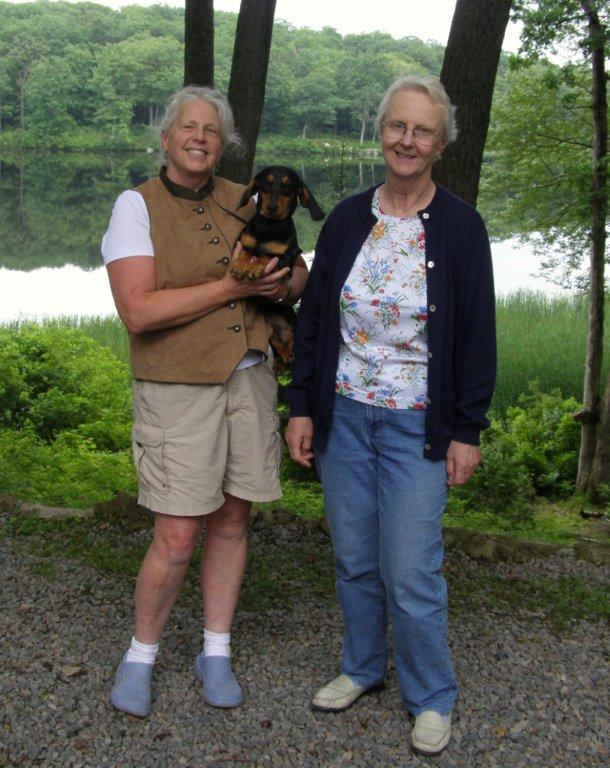 Introducing Franka
A ripping black and tan puppy girl from Germany.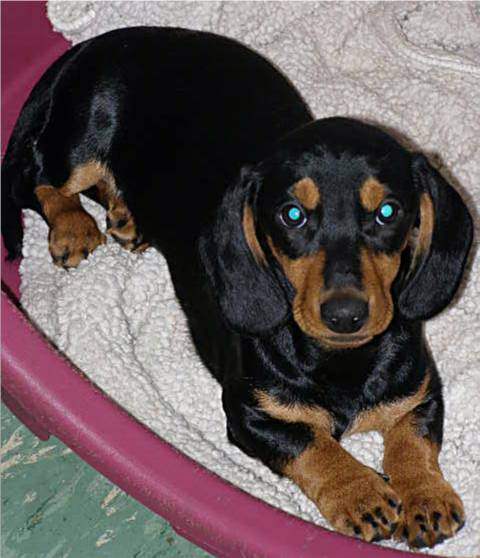 She's a pistol!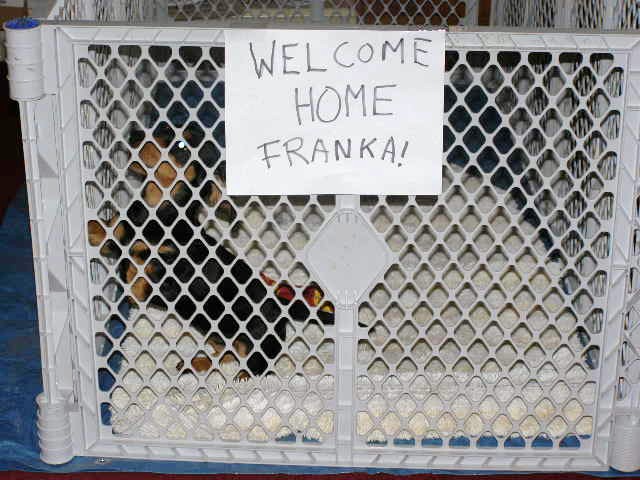 This is what we found when we came home from Germany! Franka disapproves!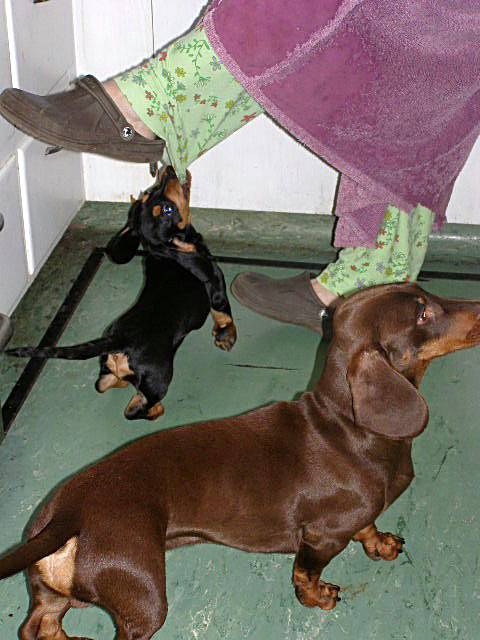 This pretty much sums up her personality!
Ivan loves her, the whole pack loves her!
Pedigree for Franka Von Schlendrian, B&T smooth, born 27 Oct, 2010
bred by Marianne Wein-Gysae
Sire
Artus vom Holzertal
0600264K
BhN Sp/J Wa.T. (V)V
b&t smooth
Sire
GS 2002
Jockel vom Weigler Wald
9900161K
BHP –G BhFN SchwhK SchwhK/40 SchwhKF
Sp St StiJ Sw2/- Vp GTB.73/2002 (V) SG
KoSG
b&t smooth
Sire
LS 1997 LS 1998
Astor vom Thomastal 9500256K
BhFK/95 BhFN SchwhK
SchwhK/40 Sp/J (SG/J) V
b&t smooth
Sire
LS 1992 DtCh VDH 1993 LS 1994 Gino vom Krummholz 9100066K Sp/J St SchwhK Sw3/0 Vp VhFK GTB.224/1994 (V) V
Dam
Cora vom Rhonweg 8900182K Sp SchwhK BhFK (V) SG
Dam
Gilla vom Weigler Wald
9600354K Sp/J (V)
b&t smooth
Sire
Dachs vom Heerbusch 9000224K Sp/J (SG)
Dam
Flocke vom Weigler Wald 9400195K Sp (V)
Dam
GS2005
Dina vom Romergraben
0300088K
BhFK/95 BhN Sp/J St StiJ Vp
GTB.148/2005
(V) SG
b&t smooth
Sire
Solojaegers Lucky 0000337K
BhFN SchwhK Sp/J Vp
GTB.127/2003
V KoSG
b&t smooth
Sire
GS 1999 DtCh VDH 2000 LS 2001
DtCh 2002 Haggnas Felix A9890251 FIN 10415 /98 MP K
Sp/Vp/J SchwhK SchwhN BhFN BhDN GTB.56/1999 (SG/J) V
Dam
Bella vom Hurrenwald 9700427K Sp (V)
Dam
Atena von der Fensterbank
9800139K
BhFN Sp Vp
GTB.65/2002 (SG)
b&t smooth
Sire
Ede vom Alten Jagen 9000066K
Sp BhFK (V) V
Dam
Abba A9790295 HR 10151 (V)
Dam
Dorette von Schlendrian
0750018K
BhFK/95 SchwhK Sfk Sp (V) V
b&t smooth
Sire
Maximilian aus der Lewermang FCI
9900120K
SG/J
b&t smooth
Sire
NLCh 1995
Camillo aus der Lewermang
8900146k BhFK SchwhK Sp
(V) V
b&t smooth
Sire
ISchCh 1988 NL Cha 1987 Boidis Super Star A8790843 NHSB 1.350.523 SF-1656OV/84 K BhFK SchwhK Sp Vp GTB.205/1988
b&t smooth
Dam
ES 1987 LS 1987 BS 1988 CAC 1988 LS 1988 VDH Ch 1988 IschCh 1990 Uta von Schlendrian 8500112K BhFK SchwhK Sp (V) V
b&t smooth
Dam
LS 1997
Mikkirs Regine Line
A9690080 DKK reg. 14461/95
BHP-1 BHP-3 BhFK/95 BhFK/B Sp/NL (V) V
b&t smooth
Sire
DKCHG KLBCH KBHV 1993 KBHV 1994 Mikkirs Columbus A9390424 D.K.K. 24415/90 KS 91 Gravpr V
b&t smooth
Dam
Mikkirs Elegance A9890067 23670/91 KS 94
smooth
Dam
Xanti von Schlendrian
0100019K
Sp (V) V KoV
b&t smooth
Sire
GS 1994
Janosch von Schlendrian 9100500K BhP-1 BhFK SchwhK SchwhK/40 Sp/J St Swl/- Vp GTB.32/1994 V
b&t smooth
Sire
LS 1985 LS 1986 VDH-CH 1986 IschCh 1988 LS 1988 Legolass vom Kattenberg 8400175K BhFK SchwhK Sp St Vp GTB.4/1987 (V)V
b7t smooth
Dam
BJS 1986 KS 1987 LS 1987 CAC 1988 ISchCh 1988 LS 1988 Ulinka von Schlendrian 8500110K BhFK SchwhK SchwhK/40 Sp Vp GTB.151/1989 (V) V
b&t smooth
Dam
KJS 1994 LS 1995
Nadine von Schlendrian 9300565K
BhFK/95 Sp V
b&t smooth
Sire
DKCHG KLBCH KBHV 1993 KBHV 1994 Mikkirs Columbus A9390424 D.K.K. 24415/90 KS 91 Gravpr V
b&t smooth
Dam
BJS 1986 KS 1987 LS 1987 CAC 1988 ISchCh 1988 LS 1988 Ulinka von Schlendrian 8500110K BhFK SchwhK SchwhK/40 Sp Vp GTB.151/1989 (V) V
b&t smooth