Goodwood House Oregon
European Dachshunds
"Gilly"
Abs 1 FC Easy de la Chapellerie SE
My trip to France to get Miss Gilly!
Recipe: To acquire a darling new little dachshund girl
1. Reserve a pup from the #1 smooth dachshund kennel in France for 5 years running.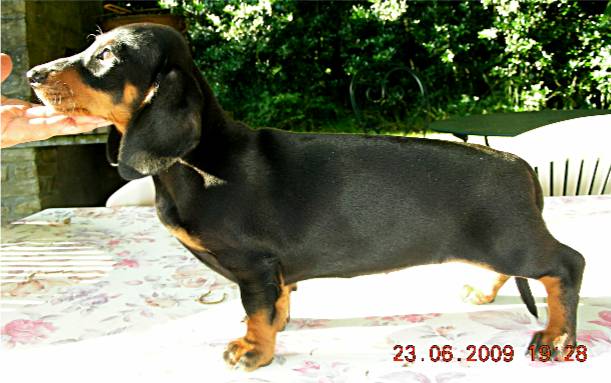 Miss Gilly at 8 weeks.
2. In September, go to France via Air Canada.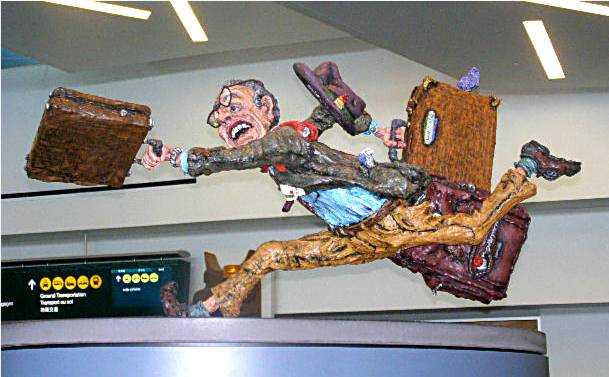 This is in the Vancouver airport. Those Canadians have a sense of humor!
2. Rent a car at CDG and drive it away...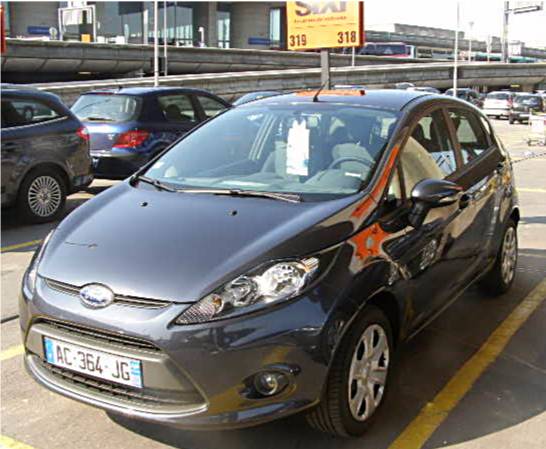 I had a GPS which really helped me get out of Paris, but it only lasted 4 hours as the
cigarette lighter didn't work!!! Boo!
I bought maps (which still work, believe it or not!)
3. Travel to Sainte Anne sur Vilaine, find the farm / kennel and meet the owners and the dogs.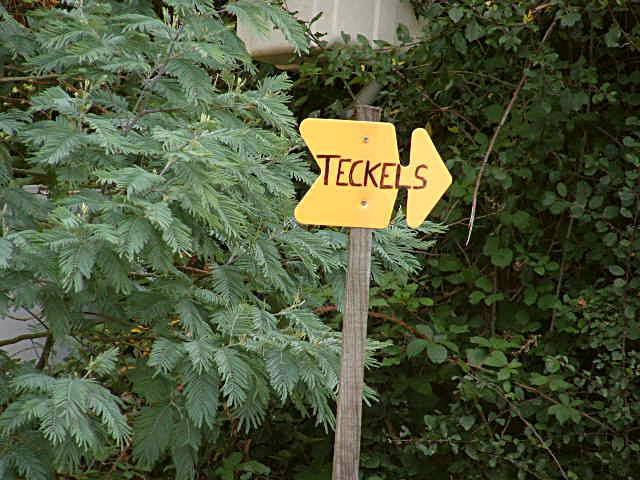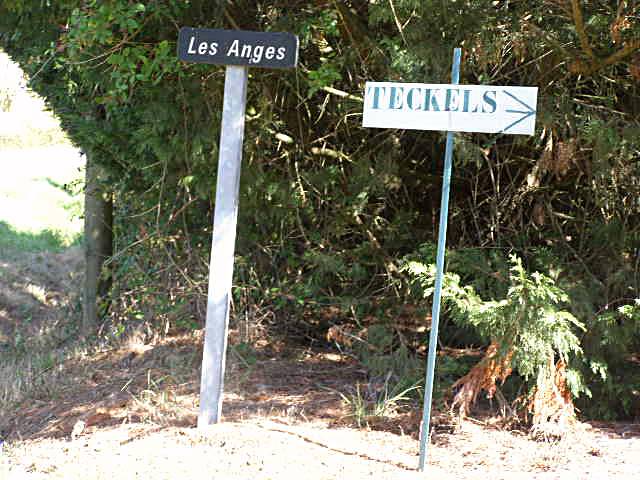 Since it is in the middle of nowhere, Mr. Ferre puts up excellent signs.
Les Anges is the name of his farm.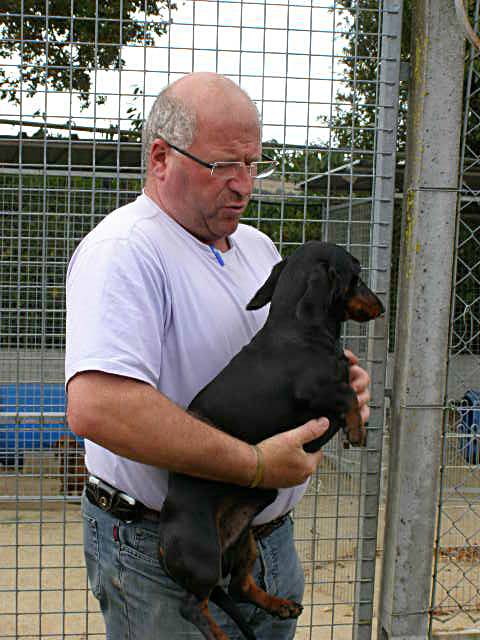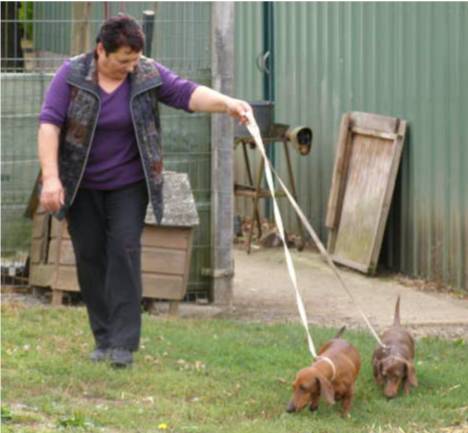 On the left is Mr. Ferre with Arlem, the sire, and on the right is Mme. Ferre with Tinette (the red), the mommy and Carola (the chocolate dapple). Carola has the most stupefying b&t male dapple puppy which I *almost* chose instead of Gilly. He's a stunner and I'll go get him if anyone wants him and will pay for the trip. (please?) Hee hee!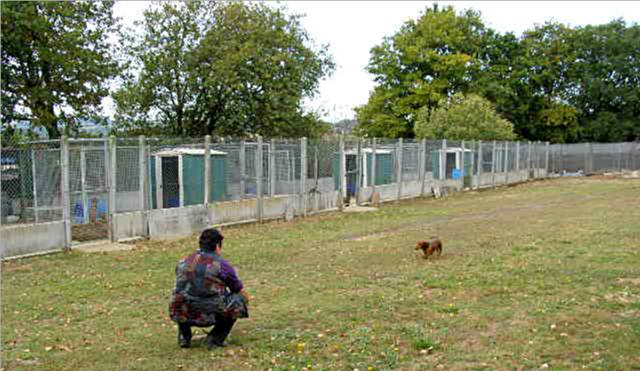 The kennels are beautiful! Spacious and clean. There is a huge play yard too.
This is the area where the males and females not in season are kept.
The females in season and the new litters are kept in the barns.
It's a great set up.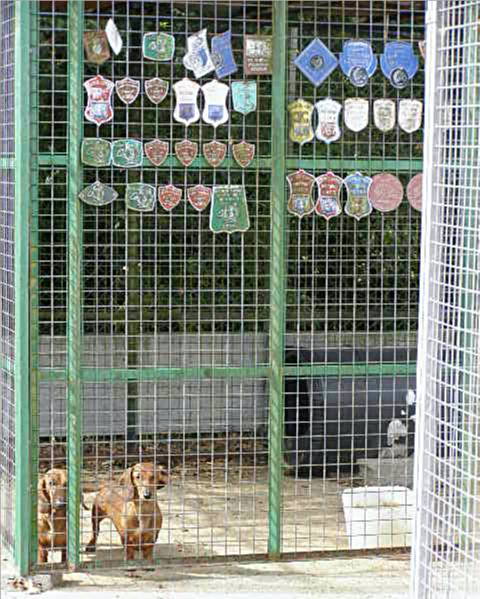 The male on the left is Spirou, one of the most decorated smooth dachshunds in Europe.
He is the show dog of show dogs.
I, however, am more interested in the gaminess aspect, and went with the Tinette/Arlem match as both of them hunt. Tinette has a huge voice and Arlem has a strong but squeaky voice. Dachshunds yip more than bay, but Mr. Ferre says Tinette has "beaucoup de gorge" which means a deep, loud cry. Hope Gilly gets it too. Tinette goes hunting with Mr. Ferre a lot. She cornered a sanglier (wild boar) by herself the other day. Mr. Ferre was not very happy as he only had her with him. It's better to have more dogs to hunt boar.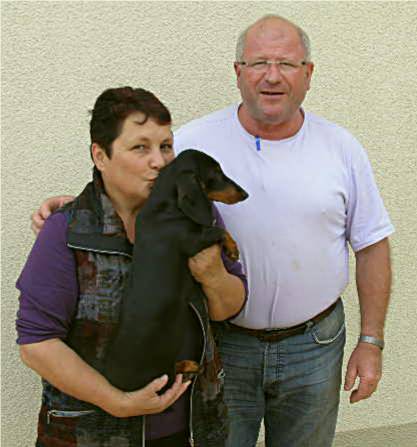 Time to say goodbye. Mme Ferre was so sweet.
She is the kissy one in the family. She loves those dogs like children!
Armed with passports and a billion French certificates and papers off I go.
Mr. Ferre was concerned if she'd behave in the car.
As it turns out, Gilly is a natural and just goes to sleep.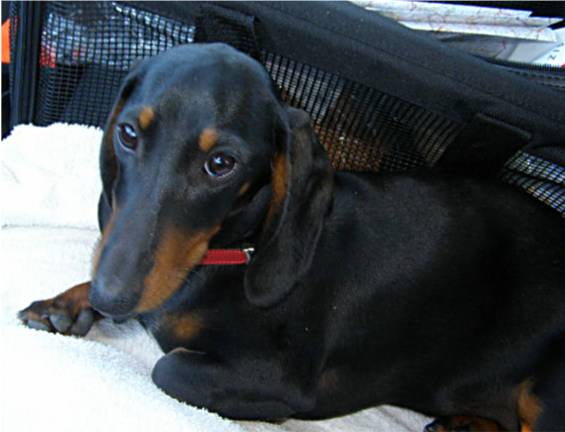 This was a good portent for the airline trip!
4. Hit the road to the south with my new dog!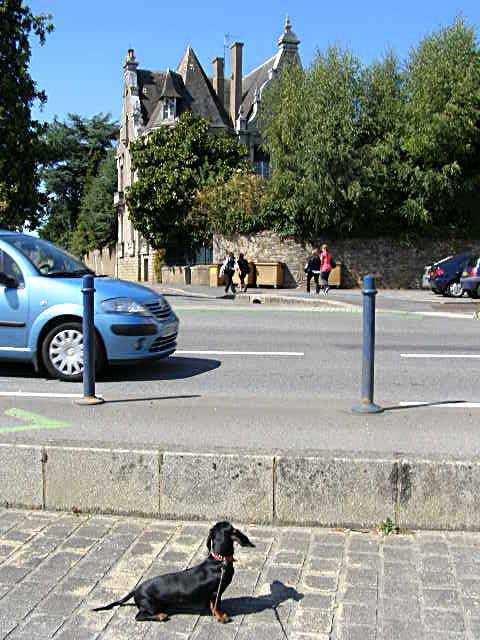 On the way we stop and are tourists.
We are actually learning to walk on a lead.
It didn't take long for Gilly to become resigned to being held.
She loved sniffing and trying to follow strangers.
5. The beach!
We choose Saint Brevin les Pins for our seaside stay.
A very sweet little beach town on the west coast below St. Nazaire and the Loire.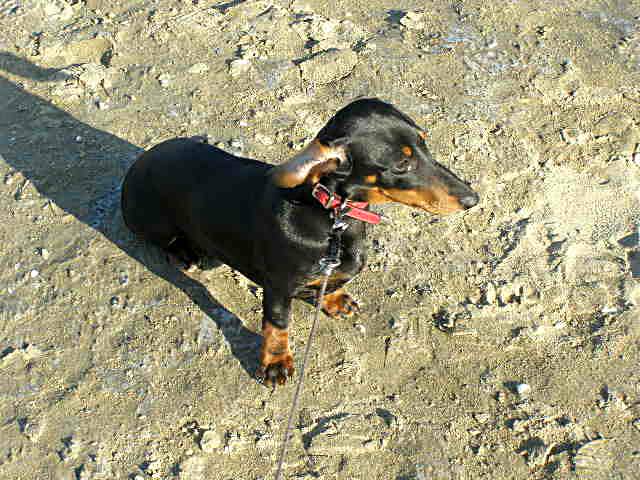 OK, sand is good. I like sand.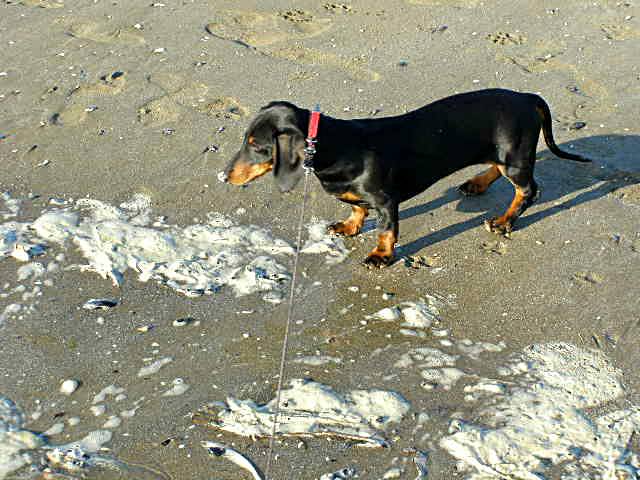 OK, what's this watery stuff. Nope, not liking this at all.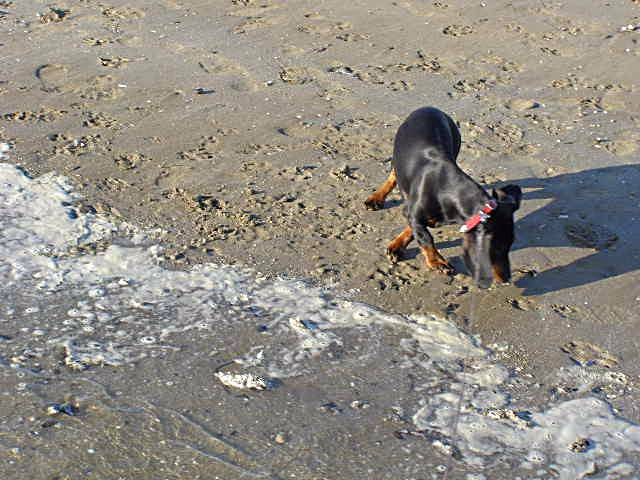 I said "no!!!", not going in there!!!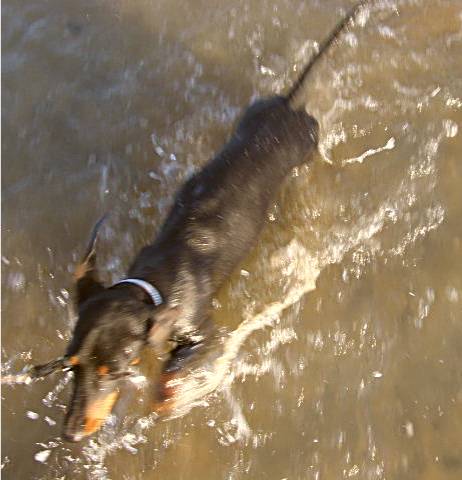 Hey, this is OK! I like it! Let's do this a lot!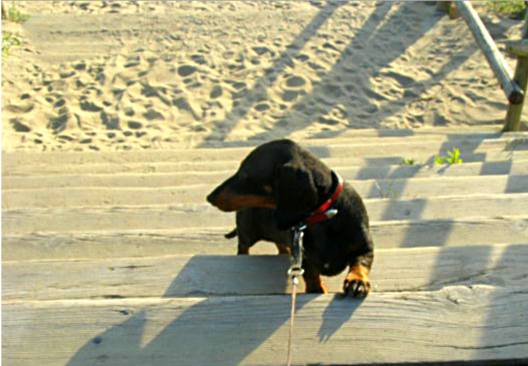 Nooo, I don't want to go home!!!
(Plus, I have no idea how to walk up stairs)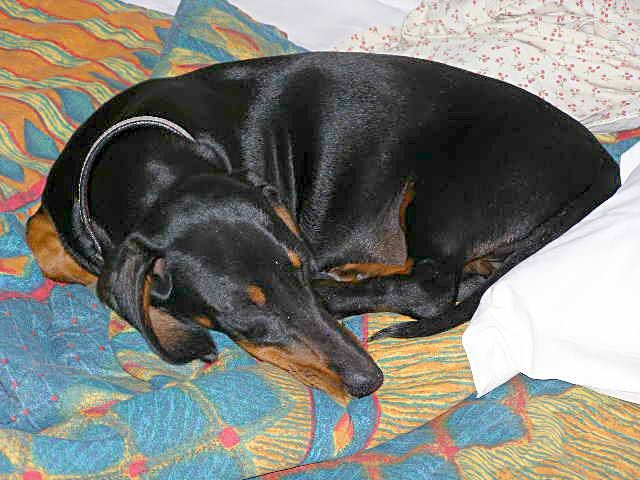 Whew, that wore me out. Let's sleep.
And that's when I ran out of batteries for the 2nd time and refused to buy more.
It took me 3 days to train her to sleep quietly in the Sherpa bag.
She slept the entire 3 legs of the flight. What a trooper!!!
Welcome Gilly!
(Named after Gilly, but also Madame Guillotine!)