Goodwood House
European Dachshunds
FC Jadzia Tasiemkowa-Mafia
(pronounced Yah-Djah)
Read more about Jadzia's title journey
on my competition pages.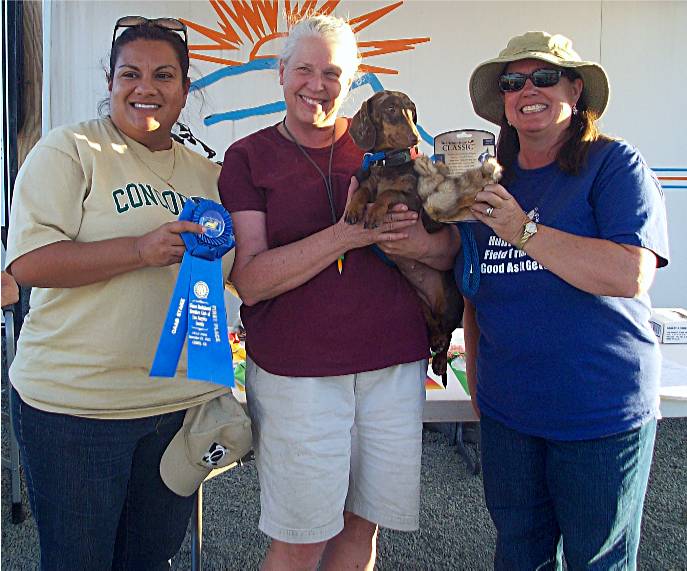 Jadzia finishes her field championship by getting called back 4th and
clawing her way up to first place in open bitches in Chino CA.
Thanks to judges Linda Castaneda (left) and Luanne Duus (right)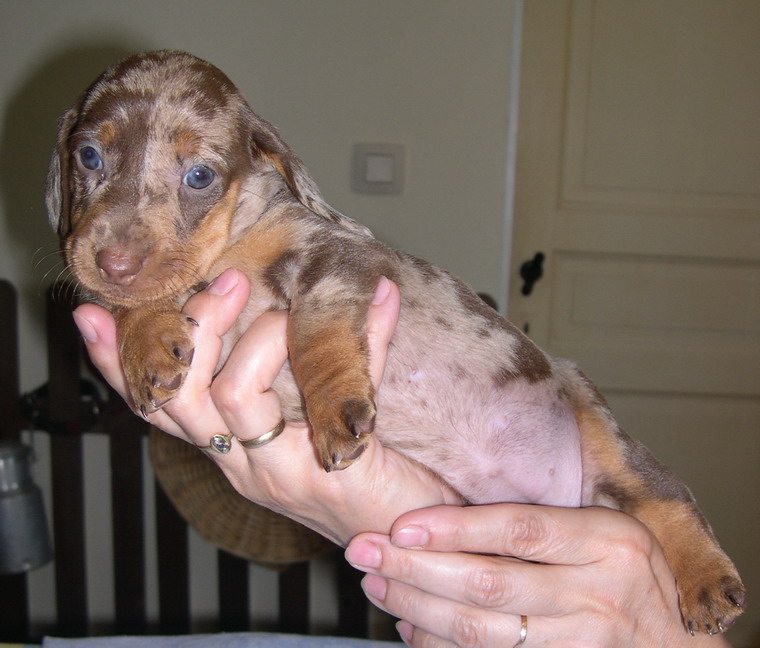 Jadzia as a tiny baby girl in Belgium.
Jadzia settles in here in Oregon.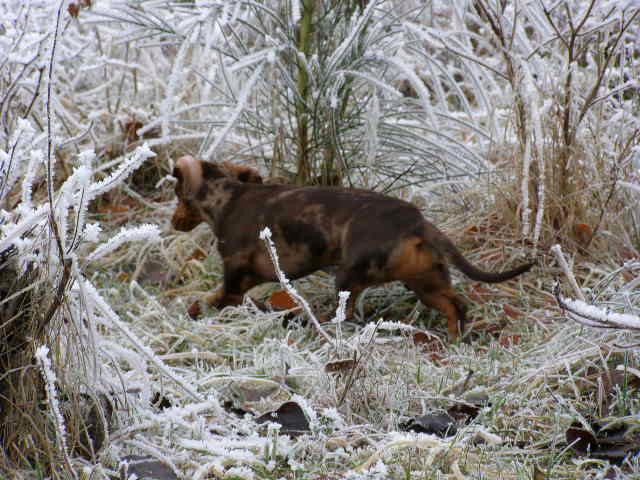 Jadzia loves to be out in the cold! (?)
She refuses to come back to the car or inside!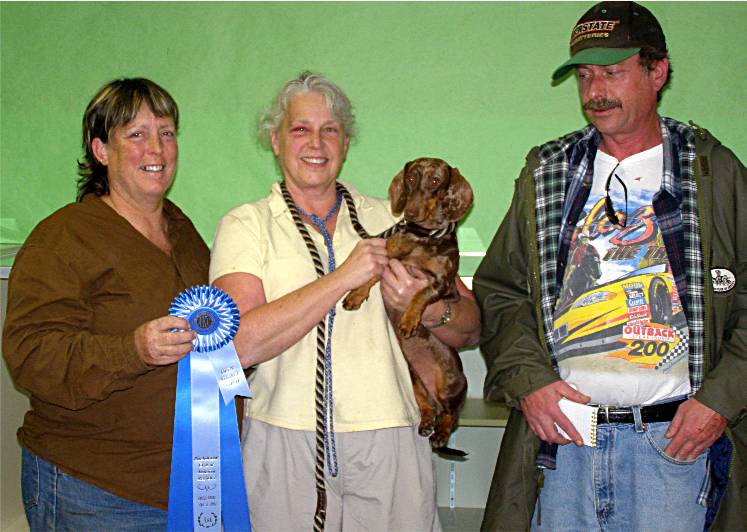 Jadzia only needs 5 more points to earn her AKC field championship.
She's got a phenomenal nose, great workmanship, and a thorough, controlled style.
Very impressive.
( I was stung by a bee on my eyelid... hence the shiner!)
Pedigree for Jadzia Tasiemkowa-Mafia, born 5 June, 2010
Chocolate and Tan Dapple Standard Dachshund
Sire
GEORGES Tasiemkowa Mafia

(B&T)

Sire
Delbrüggers ELIAS

(B&T)

Sire
Engels SOLO

(Germ/Amer) (B&T)

Sire
HI-LI'S ONCE UPON A WATERBED

(B&T) (L/S) (American)

Dam
CH. ENGELS MERCEDES

(Germ)

Dam
Delbrüggers FATIMA

Sire
DELBRUGGERS YAGO

Dam
DELBRUGGERS QUITTA

Dam
BASIA Tasiemkowa Mafia

(C&T)

Sire
XERES Tasiemkowa Mafia

Sire
INT EST GER RUS CH Germandachs Jarroux (American) (B&T)

Dam
Myjka z Tasiemkowej-Mafii

Dam
YARI Tasiemkowa Mafia

Sire
Germandachs Guesswhat

(Russ/Am) (B&T)

Dam
Uma Tasiemkowa-Mafia

Dam
Edyta Tasiemkowa Mafia

(C&T dap)

Sire
HAZARD z Kordegardy (C&T)

Sire
DONDER v.d. Hen's Bergen

Sire
Vidi V.D. Hen'S Bergen
Dam
Twinkel V.D. Hen'S Bergen

Dam
OKLAHOMA Gaypark

Sire
Zamos V.D. Hen'S Bergen
Dam
Mardzana Gaypark

Dam
BASIA Tasiemkowa Mafia (C&T)

Sire
XERES Tasiemkowa Mafia

Sire




INT EST GER RUS CH Germandachs Jarroux

(American) (B&T)

Dam




Myjka z Tasiemkowej-Mafii

Dam
YARI Tasiemkowa Mafia

Sire




Germandachs Guesswhat

(Russ/Am) (B&T)

Dam




Uma Tasiemkowa-Mafia