Right-to-dry activists want to air their laundry in public
Conservation - People tout the energy efficiency of clotheslines, but others complain about eyesores
Saturday, April 21, 2007
GABRIELLE GLASER
The Oregonian
Claire Mancha has a thing for laundry. She has a high-efficiency washing machine, vintage steam irons and a crockpot-like portable washer she takes on the road.
But her clotheslines take the ritual to another realm, even in famously unsunny Oregon. The basement of her Milwaukie farmhouse is an intricate lattice of cords hung with slow-drying blankets and jeans. Outside, tablecloths snap on two long lines pulled taut between giant maples. A backup rotary contraption stands at the ready outside the greenhouse, awaiting more reliable skies.
Mancha's enthusiasm for air-dried clothing skips right past her property line. Wherever she sees flapping garments, she dispenses one of the "laundry award kits" she always keeps with her. "Congratulations!" says the message, attached to a package of clothespins. "You are a being a smart eco-citizen by hanging your laundry outside to dry."
Mancha is among a small but vocal group of Americans who see air drying not only as romantic and frugal. For Mancha and many others, the humble clothesline is also as political as it is poetic. "I have never understood," Mancha says, "why anyone could object to this."
But plenty of critics do, even in environmentally aware Oregon. To them, billowing underwear defaces suburban tidiness and harks back to Depression-era landscapes, both urban and rural. Homeowner's associations prohibit or restrict them in an estimated 60 million American yards, says Alexander Lee, of Concord, N.H. Lee is founder of the organization Project Laundry List (www.laundrylist.org). The right-to-dry movement it spawned helps promote clotheslines nationwide.
Lee launched Project Laundry List in 1995 as a student at Vermont's Middlebury College after he heard Helen Caldicott, the Australian physician and anti-nuclear activist. In the speech, Caldicott said that Americans had the power to reduce reliance on nuclear power if they took such energy-saving steps as drying clothes outdoors.
Since 1999, Utah and Florida have passed right-to-dry laws, and pressure is mounting in California, where an estimated 7 million households have clothesline restrictions, Lee says.
Electric dryers use more energy than most household appliances. American electric dryers each year consume the rough equivalent of 30 million tons of coal, or the output of the nation's 15 least-productive nuclear reactors, according to a 2004 article in Legal Affairs.
From 1999 to 2002, dryers also were responsible for 12,400 house fires in the United States, according to the National Fire Protection Association.
Homeowners in Alaska, Hawaii, Washington, Oregon, and California have far fewer electric dryers than those elsewhere. According to 2001 statistics listed by the Department of Energy, only 43 percent of Pacific households own them, compared with 57 percent nationwide.
Clothesline believers such as Lee say that hanging clothes offers rewards beyond energy savings. "I don't want to sound preachy," he says, "but it's so easy and so beautiful. It's art."
It is also time-consuming. In modern American society, most hours are spoken for. And some visitors to Lee's Web site -- he has been receiving 9,000 a week -- note that laundry duty often falls to overstretched mothers. "One woman said I was trying to reverse everything Betty Friedan had put in motion," he says.
Some men in the egalitarian West, however, scoff at such a notion.
Charles Lytle of West Linn takes great pleasure in the retractable umbrella line he hauls outdoors in spring and summer. "It's green, it's sustainable, and pillow cases smell absolutely wonderful," he says. "I tell people, 'I'm saving the salmon. Turbines at Bonneville Dam aren't running because of this."
But Lytle has limits. Air-dried towels are too stiff and scratchy, and sheets, he says, are too unwieldy for his apparatus. His son darted up to grab a line some years ago, and it resulted in a permanent tilt.
"It's the Leaning Clothes Tree of Conestoga Lane," he says.
Then he paused. "In fact, it may be the only clothes tree of Conestoga Lane."
Gabrielle Glaser: 503-221-8271; gabrielleglaser@news.oregonian.com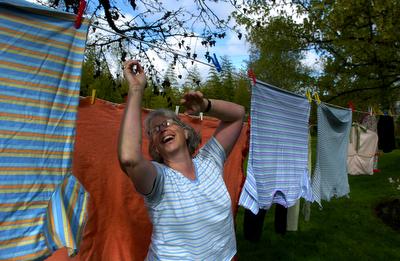 Claire Mancha is a clothesline addict. She can hang in the basement or out in the yard depending on the weather. And the smile isn't for the camera — she's always in a good mood she says when she's hanging clothes.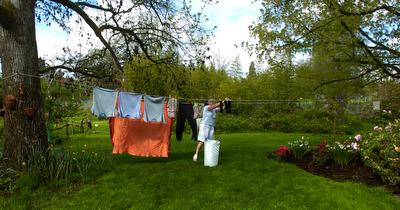 Photos by Benjamin Brink, educated at Ohio University in Athens, Ohio!