Goodwood Dachshunds
Pixie / Kansas Litter Weekly Update Page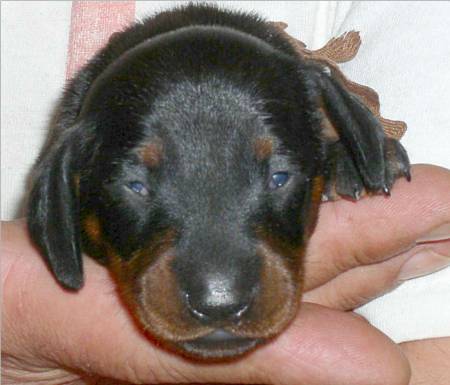 Ally opens her eyes on day 10.
Week 12 update:
Brown is now "Ally", "Goodwood's Here's the Goodsss" and lives with Jeaninne Wagner in Bend, OR
Beige is now "Paige" , "Goodwood One Good Turn" and lives with her pig, Boston terrier, 2 humans: Angela and Tony, a Mastiff, and 2 Tennessee Walking Horses in Canada.
Yellow Yellow is now "Link" , "Goodwood Good 2 the Bone", and lives with his new family in the city by the bay!
Pink "Goodwood Goody 2 Shoes" "Tip" lives with the Lance family in Renton.
Red "Goodwood 2 Good 2 B True" "Vela" lives with me here at Goodwood.
Green is now "Goodwood Good Brady", "Knuckles" and lives on 35 acres in Washington state.
Blue is now "Chili-dog" and lives in West Linn, OR